Using A.I. to Unite Fraud and Payment Integrity
Part 1 of our series on how the SIU can use artificial intelligence to overcome common challenges. Bringing together fraud and payment integrity efforts on a single A.I.-powered platform can accelerate health plan savings.
Data and work silos have become a top barrier to health plans' ability to effectively combat fraud, waste and abuse. Imagine your SIU has been building a case against a suspect provider and requests 50 medical records. At the same time, the provider's reputation as a bad biller has not gone unnoticed, and the provider audit department requests 150 medical records. And just like that, a strong fraud case virtually disappears over a simple communication error. Not to mention the associated provider abrasion.
Today, artificial intelligence capabilities have progressed to close these gaps and support data sharing that improves outcomes across cost containment. How could your health plan benefit from using A.I. to align fraud and payment integrity efforts?
Why the SIU and Payment Integrity Should Align
The biggest challenges we hear from SIU leadership ultimately come back to poor communication with payment integrity. Not only the fallout from not knowing about active or previous audits of a suspect provider. But also the need for measuring the team's efficiency beyond basic metrics of cases opened and dollars saved. These silos can even prevent both the SIU and payment integrity from knowing what information might be available.
You benefit from access to as much intelligence as possible. And this disconnect forces you to work harder instead of smarter. How do these silos emerge, and what could your FWA team do with better access to more timely data on providers?
4 consequences of FWA and payment integrity silos
Limited communication and information sharing between the SIU and overall payment integrity can arise due to several factors. Cultural, political and technology barriers can create the separation. Then, administrative processes emerge in their wake to deepen the divide. As a result of these silos, the entirety of cost containment suffers the consequences:
Potential provider abrasion due to pursuing false positives or duplicated efforts.
Lack of efficiency to get through all leads, cases and audits in an appropriate manner.
Lack of effectiveness in thoroughly managing cases and audits which can lead to missed savings opportunities and undetected fraud, undetected payment policy gaps and even undetected inabilities to follow contract terms both on the provider and the payer side.
Inability to report on SIU progress – and the ROI of the SIU – in a very timely and effective way. This gap also prevents health plans from meeting State and Federal regulatory reporting guidelines, especially for those plans that are Medicare Advantage or Medicaid MCOs.
FWA isn't necessarily separate from overall payment integrity initiatives – particularly provider audit and data mining. The way each function pursues cost savings may have some similarities and some differences. But ultimately, they have the same goal: paying claims appropriately and efficiently. To eliminate the duplicated effort that can stymie this goal, start by considering what information can and should be shared.
What information should the SIU and payment integrity share?
A.I. – like the fraud and payment integrity efforts it supports – gets its power from varied information that provides additional context for data-driven decision making. If your health plan hasn't historically shared information across cost containment functions, we recommend you come together on this issue by asking a few questions. Namely, what intelligence does payment integrity currently share with you, and what do you wish they would share? And conversely, what intelligence do you share with them, and what would be beneficial to share?
These questions may seem obvious at first. But particularly when thinking about what isn't being shared, you may have to probe a little deeper. Consider the information that hasn't been possible to share as well as anything useful that may have been overlooked in the past. In general, we find that the SIU and payment integrity benefit from shared visibility in five major areas:
Provider audits and cases: The SIU can see when an audit is open, and an auditor can be notified when you open a case against a provider.
Provider audit history: Utilize past PI audit history to inform action on suspected FWA leads and cases.
Medical records: A shared view of medical records cuts down on potential provider abrasion as well as duplicated effort.
Provider communications: A shared view of medical records requests and other correspondence and education with providers in question and other case stakeholders. Information may also include interviews (audio or documents) with providers, patients, office staff, etc. related to audits or cases.
New schemes or audit types: Two-way sharing of this information provides ideas for each function and allows the SIU to dig deeper into areas of high potential.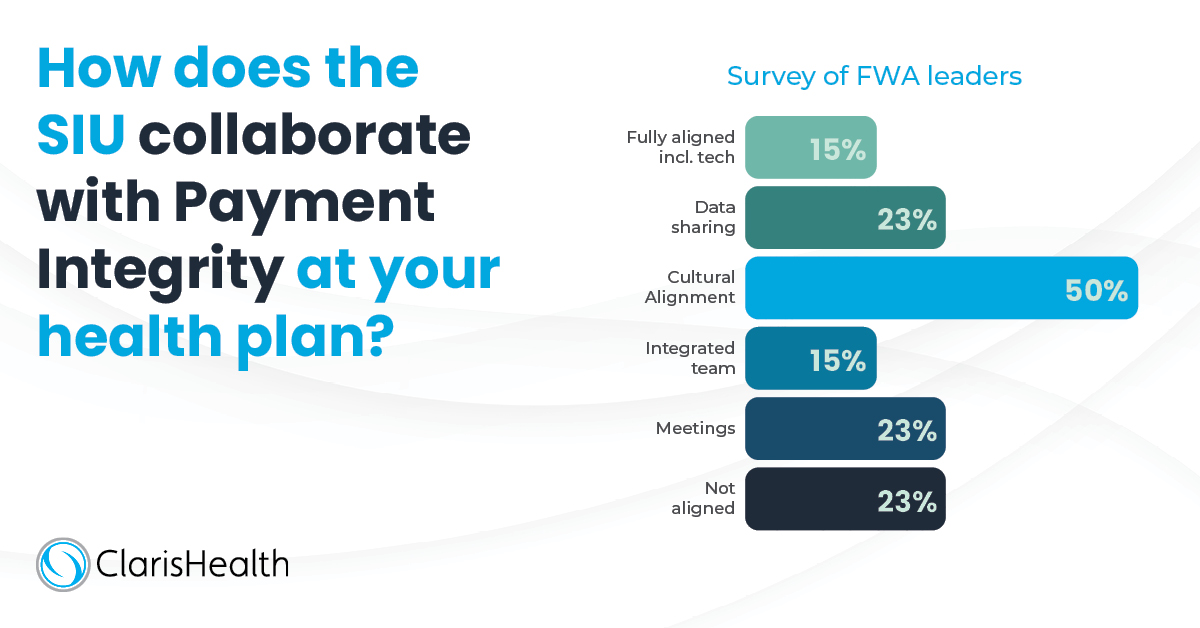 If your FWA function has already opened the lines of communication with payment integrity, you are ahead of the game. Even reactive, informal and/or manual processes where you share insights via email or regular meetings, for example, offer value. But to attain a true competitive advantage, you should seek out real-time information exchange that integrates seamlessly into current workflows.
Maximize SIU Effectiveness with A.I.
To enhance the value of the information you exchange with payment integrity, artificial intelligence has developed into a true solution. Highly practical applications of A.I. for health plans already include better detecting complex and previously unknown healthcare fraud schemes. Combining that with intelligence from payment integrity audits and integrating it into the workflow maximizes the effectiveness of both functions.
Alerts and workflow automation
A.I. to unite fraud and payment integrity efforts can look like alerts that notify the SIU of an open audit on a provider, or vice versa. It could also prevent payment integrity from pulling claims for any type of audit on providers with active cases until a determination is reached. This workflow automation allows auditors and the SIU team to be more proactive with their work. It also eliminates duplication of effort, which wastes time and can make a health plan look disorganized.
Role- and user-based security
A.I. and workflow automation can also ensure users have access to information on a need-to-know basis. From limiting who has access to sensitive data like medical records to prioritizing who gets notified of new schemes or audit types. You want to be able to segment this access as much as possible.
Configurable dashboards
What an SIU manager needs to see at any given time will differ from analyst or investigator needs. What medical management or another area of payment integrity needs visibility on also will vary. Being able to define those elements – at the role and user level – and discretely share information allows each expert to have real-time insights pushed to them. No need for ad hoc exchange of already-outdated data. These dashboards also make it easier to track the SIU team's ROI and efficiency by automating a very manual reporting process.
Pareo® Unites Fraud and Payment Integrity
The value of integrating anti-FWA and payment integrity efforts cannot be overstated. For health plans that use Pareo across all payment integrity functions, a provider's actual audit history can be made visible to the SIU. This model can also provide a "trigger" for the SIU to begin monitoring a highly audited provider.
You can see all open audits, audit types, amounts, full claim history and the current status – automatically. As an integrated part of the payment integrity technology platform Pareo, Pareo Fraud is a comprehensive, web-based solution for the intake, management, dissemination of information, decisioning, tracking, and reporting on leads and cases that are the result of fraud, waste and abuse.
These benefits just aren't available with the siloed, legacy FWA tools in use at most health plan organizations. Pareo Fraud can help you quickly convert detection results to leads or cases, communicate relevant information back-and-forth with the audit function, and refer honest billing mistakes for provider education. Advanced integrative technology that provides broader access to real-time data will allow your health plan to modernize the SIU and broader payment integrity efforts alike.
Now's the time for total payment integrity
See the ClarisHealth 360-degree solution for total payment integrity in action.
ClarisHealth Hires Gary Eeds as Chief Operating Officer
Healthcare technology delivery veteran joins senior leadership team to scale adoption of enterprise payment integrity platform for health plans. As Chief Operating Officer, Eeds is excited to join ClarisHealth to continue the mission ...
ClarisHealth Makes the Inc. 5000 4 Years in a Row
ClarisHealth, provider of the industry-leading payment integrity technology platform Pareo®, today announced it ranked for the fourth year in a row on the Inc. 5000. ClarisHealth attributes its sustained revenue hyper-growth rate to ...
Will Artificial Intelligence Finally Make Good on its Promise to Healthcare?
Artificial Intelligence is making the leap from much-hyped "trend" for healthcare technology to more widespread adoption. Here's what A.I. is — and isn't — and how health plans are proving its value. Artificial Intelligence for ...