Focus:
90% of leaders
lack the focus
necessary to spend their time in a committed, purposeful, and reflective manner.
Control:
When you possess the means to make informed choices, you can impactfully direct energy and improve focus.
Optimize Supplier Partnerships
Your health plan benefits from multiple vendors. 

We make this a reality.
Every health plan sees the benefit of expanding their array of third-party vendors but are hampered by inefficient processes and increased administrative burden. Pareo® allows you to easily double your vendors and enhance the business partner experience — without increasing your overhead.
Typical Payment Integrity Approach:

Focuses on retrospective pay-and-chase

Lacks unified enterprise-level reporting

Creates competing objectives across claim processing departments

Causes provider and member friction around payments

Increases administrative and medical costs, potentially impacting medical loss ratios

Lacks transparency across solutions, vendors and business lines
What is Total Payment Integrity™?
A 360-degree solution that mutually benefits you, your providers, and your vendors.
ClarisHealth is not just another vendor. We're about much more than insurance claims recovery—and with ClarisHealth, you won't experience broken processes. We are a technology-enabled service vendor, but we are also powered by people who help you achieve the greatest results possible through automation, analysis, and insurance claim recovery support.
Our payment integrity systems give you the vision and insights necessary to see what needs to be done with each individual claim. We give you the tools and technology to perform at the top of your game. We partner with you and guide you every step of the way.
It's not magic. It's the program integrity solution you would create if you could, and it's taking payment integrity from complexity to total visibility that brings you optimal payment integrity results.
Our Approach: An Integrated Model for a Fractured Industry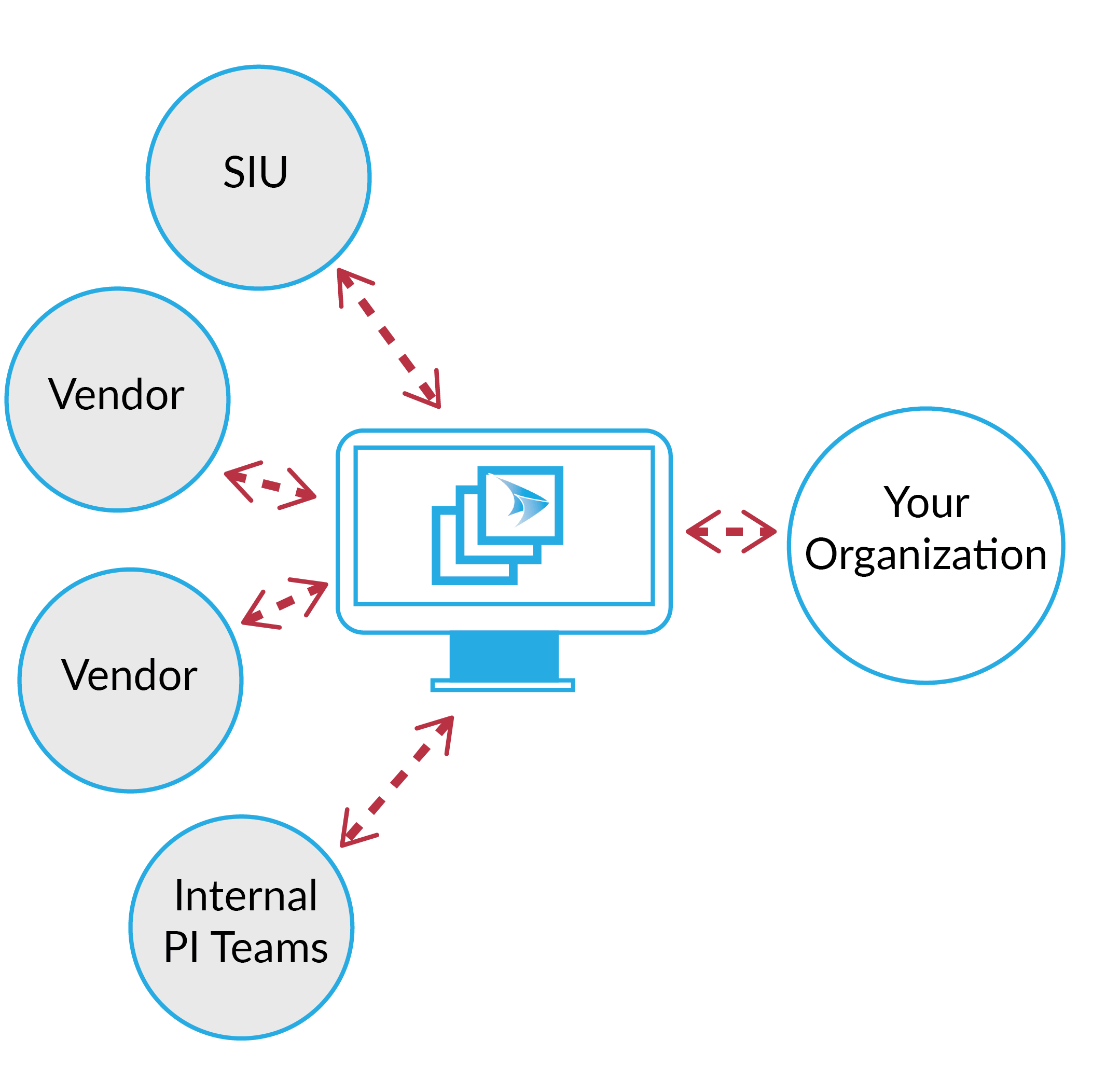 It's difficult to maintain your focus on optimizing results in total payment integrity when you're facing increased pressure to control medical expenditures and lower your administrative costs. And, because you may be working in a highly fractured structure of multiple inter-departmental teams, a vast network of third-party vendors, and using antiquated or insufficient technology, which often perpetuates errors and increases costs.
Today's industry demands that payment integrity organizations have comprehensive solutions that can drive value and efficiency across the entire payment integrity ecosystem.

Transparent technology to manage audit inventory from pre-payment avoidance all the way to pay-and-chase recovery management.

One source for all audit inventory—generated both internally and for
third-party administrators
—that aggregates all the
insurance claim recovery
data into meaningful decision-making metrics for plan stakeholders.

A straightforward approach that provides you with the technology for health plans foundation you need to succeed, that helps you identify the recovery service gaps that need to be filled, and finds the best partners to drive results.
How could you benefit from the Total Payment Integrity™ approach?

"ClarisHealth's Total Payment Integrity™ solution not only allowed us to scale our third-party vendor program but also gave us the data insights to identify underserved product lines so we could focus our efforts.
As a result, we have reduced medical expense by 2.6%!"
Director of Claims Cost Management, Regional Health Plan
Total Payment Integrity by the Numbers
Do you have the focus needed to address the challenges ahead?
$70 billion
: Improper payments for Medicare and Medicaid due to administrative and process errors, member eligibility issues, and insufficient documentation.
$362 billion: Medical cost savings related to improved payment integrity and decreased overpayments.
$47 billion: Estimated administrative cost savings if plans use predictive modeling to pre-score claims for coordination of benefits (COB), upcoding, subrogation, fraud and medical management prior to payment.
2%: The Industry-accepted rate of recovery, relative to claim spend.
7%: The Optimized rate of recovery, relative to claim spend.
Health plans "need to implement technology-based solutions to detect, prevent, and mitigate improper claim activities and payments."
Gartner, "Market Guide for Payment Integrity Solutions for U.S. Healthcare Payers," 2016
Unleash the Power of an Integrated System
To harness the power of the Total Payment Integrity™ approach,
ClarisHealth
has developed Pareo®, the industry's first modular and secure web-based platform that integrates all audit results into one solution giving YOU total control. All with no infrastructure overhead and minimal IT expense.
What could you accomplish with Pareo®?

Comprehensive vendor management, overlap and optimization

Custom workflows to manage audit inventory across all audit lines

Smart work queues to drive work assignment enhancing recovery associate efficiency

Medical record and other image capture and storage with OCR capability

Full recovery suite to manage all sources of recoveries and keep tight control of accounts receivable

Full claim data warehousing and embedded query builder put the power of data analytics in the hands of the reimbursement SME

Real-time dashboard and reporting analytics deliver the right KPIs to the right stakeholder at the right time
Maximum Financial Returns Today, Innovative Opportunites for Tomorrow.
Decrease Medical Expense by 3-5%
Lower Administrative Costs by 2-4%
Receive a 10X Return on Investment
Want to learn more about: