How can A.I. + Domain Expertise

 

help

 

your health plan

 

scale

 

FWA operations?
"I've spent years envisioning the ultimate FWA solution for this market. I have friends who work for other technology vendors and in the SIU. I am deeply moved by the desire to utilize advanced technology in order to reduce and prevent FWA, and I realized a long time ago that a true solution for Investigators is one that integrates with payment integrity, while also updating the legacy technology systems in use by many health plans today."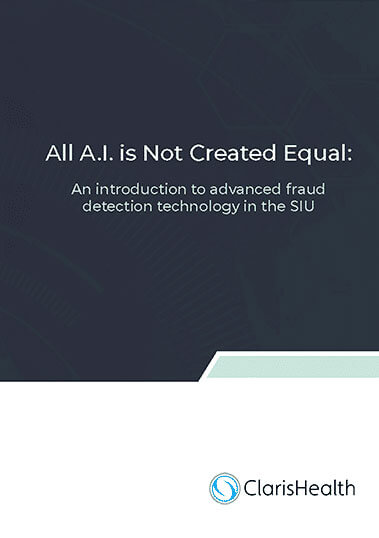 Are your fraud investigators doing their best work while struggling with unprioritized fraud leads?
Most health plans are discovering the hard way that their familiar, legacy fraud solutions aren't helping them combat false positives, mitigate provider abrasion, work seamlessly with payment integrity functions, or make the most of limited resources. Now that advanced solutions that harness the power of artificial intelligence have emerged for fraud detection, is it the right solution for your organization to hit escalating fraud recovery goals and prove the value of your SIU team's efforts?
In this 13-page whitepaper, you will learn:
The pros and cons of legacy solutions
Why health plan SIU functions need advanced technology 
The difference between relevant applications of artificial intelligence and how each can be used to overcome healthcare data challenges 
How layering multiple sources of data – including legacy rules-based solutions – and multiple applications of A.I. can reduce false positives and offer greater understanding of leads
The benefits of integrating the SIU with overall payment integrity efforts
How scalable fraud detection platforms learn over time without inputting discrete rules
How to question vendor claims of advanced technology for fraud detection