Time to get social! How to cover social determinants of health without increasing complexity
Payers are starting to go all-in on social determinants of health, but coordination of care can be complex. A look at how technology can manage these high-impact initiatives.
Already a trend for Medicaid, and now gaining steam among Medicare Advantage plans, payers are starting to go all-in on one set of initiatives designed to create healthier, less healthcare-dependent members: social determinants of health. Including everything from Apple watches to fresh food to GEDs, they're meant to lower overall healthcare costs, but covering them can increase complexity for a health plan organization. How can health plans cover these potentially high-impact initiatives without increasing their administrative burden?
Social Determinants of Health (SDOH)
"Social determinants of health are the conditions in places where people live, learn, work and play that affect health risks and outcomes." (PwC)
Coverage of Non-Health Initiatives
Social initiatives like pre-k programs, paid family leave, career training and wellness programs have traditionally been civic in nature. But in recent years, studies linking social determinants to health have caught the attention of health plans. The costs for non-health initiatives are less expensive than treating complex medical conditions, many of which could be prevented or mitigated by addressing social determinants of health. 
In 2018, the Kaiser Family Foundation published an article titled "Beyond Health Care: The Role of Social Determinants in Promoting Health and Health Equity." In it, authors Samantha Artiga and Elizabeth Hinton explore social determinants and their impact on equal healthcare and outcomes. They identified how initiatives within the healthcare system have grown, noting that "19 states required Medicaid managed care plans to screen for and/or provide referrals for social needs in 2017, and a recent survey of Medicaid managed care plans found that almost all (91%) responding plans reported activities to address social determinants of health."
The social needs that managed care organizations are required to respond to vary from state to state. For example, Arizona requires that community resources (such as housing and utility assistance) be coordinated under a managed long-term services and supports (MLTSS) contract. "When estimates show that more than 80% of all homeless people have at least one chronic health condition, investing in housing means this population can better focus on their care," according to Dr. Derek Robinson, chief medical officer for Blue Cross and Blue Shield of Illinois. 
Other payer initiatives within the context of the healthcare delivery system look like meal delivery, adult day care, home safety improvements and even acupuncture and massage therapy, according to one study of five Medicare Advantage plans. Wearable fitness technology, like the Apple Watch, is starting to be covered by some plans.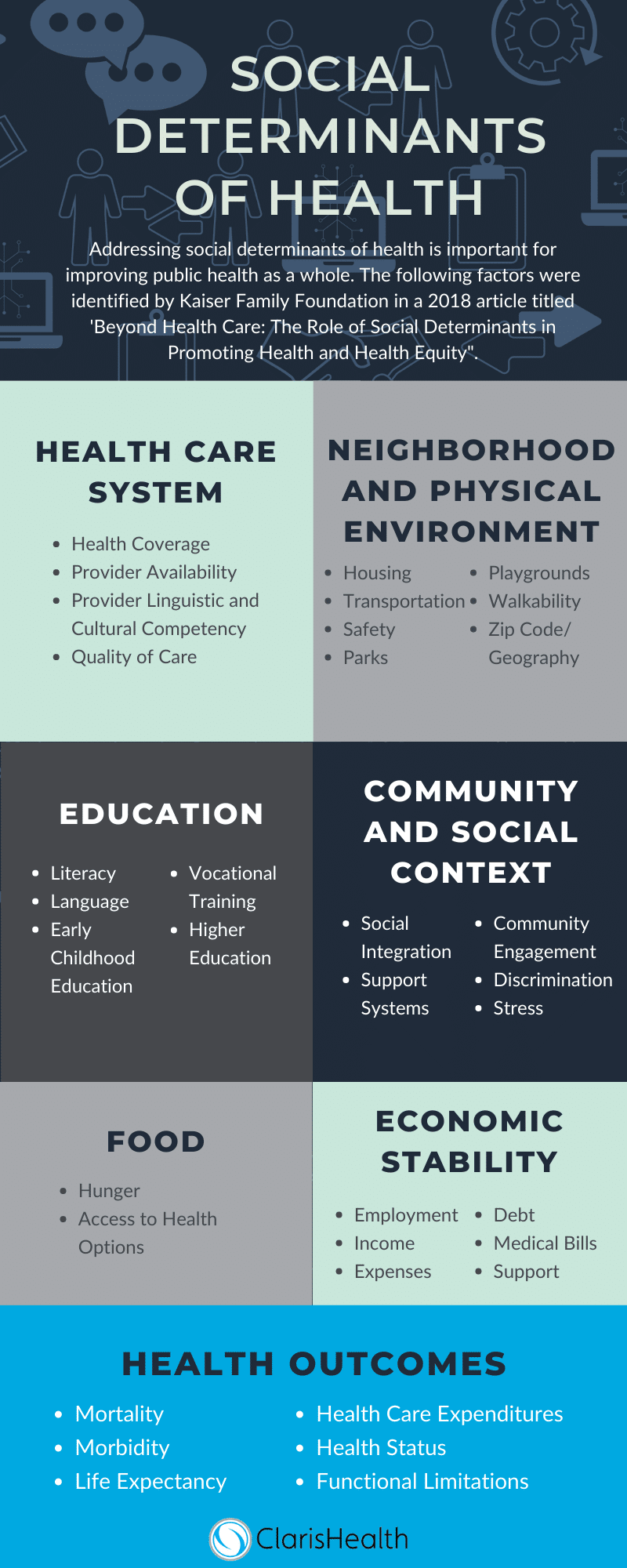 Why Payers Are Focusing on "Non-Healthcare"
Payers see the value in supporting SDOH, with some partnering to provide community resources that further their investment in non-healthcare initiatives. Last month, BlueShield of California announced a partnership with L.A. Care to open 14 wellness centers as part of a joint focus on community health.  
In May of this year, the Association for Community Affiliated Plans (ACAP) released a study determining the link between education and workforce development and better health outcomes and describing the "health impacts faced by Medicaid enrollees who are unable to obtain a job due to a lack of education or job skills." 
Indeed, as funding for Medicaid is called in to question and an increasing number of states pursue 1115 waivers (which allow them to require work requirements for Medicaid coverage), it makes sense that health plans find ways to address education and career training for plan members. These programs include scholarship programs that allow recipients to pursue job certifications, personal coaching, mentorship programs and long-term employment opportunities. 
The ROI Question
There are financial incentives for health plans that expand SDOH coverage. New rules this year allow Medicare Advantage plans to get reimbursed for offering other supplemental benefits. "For 2019, CMS introduced new flexibility into the uniformity requirement by allowing MA plans to offer supplemental benefits to some—but not all—vulnerable enrollees," writes C&M Health Law. This is a change from traditional interpretations of the regulation, which required supplemental benefits be primarily health related. 
Studies have emerged in recent years that highlight the financial return that implementing community health programs and SDOH interventions can offer. In July of this year, The Commonwealth Fund released an ROI tool that assists healthcare organizations in determining the financial benefits associated with SDOH to "help…plan sustainable financial arrangements to fund the delivery of social services to high-need, high-cost patients… who account for a large share of overall health care spending." 
Some estimated savings highlighted by The Commonwealth Fund include estimates on housing initiatives, from which health plans may expect to save $1.57 for every $1 spent. "Although there is a growing literature confirming that community health programming can be effective for cutting down the high healthcare costs that often stem from limited social support, organizations still struggle with the payment piece," reports Patient Engagement HIT. 
Payers addressing value-based care initiatives at their organizations may also be directly — or indirectly — looking at social determinants of health as a concurrent issue. It's estimated that direct clinical care/intervention accounts for about 20% of healthiness, a relatively low impact. Improving outcomes and lowering costs requires casting a broader net. SDOH programs like care management models — which connect high-risk patients to necessary medical and non-medical community supports — have been found to reduce utilization rates, lower costs of care and produce significant ROI (July 2019, The Commonwealth Fund). 
Managing the Complexity of Meeting Social Needs
It's easy to understand that managing SDOH is a complex issue. Solera Health and Blue Cross Blue Shield Institute announced this past March that they are piloting a program to coordinate regional patient resources with SDOH. As Solera founder Brenda Schmidt explained to FierceHealthcare, "There is no one-size-fits-all solution for healthcare or SDOH. Each individual has lifestyle/social needs that need to be met in a meaningful way, and member data allows Solera to match them to the right resource." 
Anytime complexity is introduced into the healthcare delivery model, there's a potential for fraud, waste and abuse. As health organizations weigh the benefits of addressing social determinants of health, they should evaluate if their technology resources are advanced enough to mitigate these risks. 
"There are many ways to ensure physical safety and care for loved ones. But what's hardest to provide is everything that makes us human: joy, connection, meaning and enrichment."

Joy Zhang, Mon Ami co-founder, as told to FierceHealthcare.
Advanced technology can enhance SDOH initiatives at health plans by increasing interoperability of real-time data. For example, predictive analytics can be used for personalized, data-driven decisions on member needs. Accurate return on investment for SDOH initiatives can also be determined. 
Additionally, the administrative burden of very complex contracts that expand supplemental benefits coverage is mitigated when claims are paid correctly (an easier task when plans have access to a robust technology solution). Payers aren't the only stakeholders that are leveraging population health data. Metrics showing clinical care plays a small part (20%) in a patient's overall care outcome and other imbalances which, according to some, indicate major mismanagement and an opportunity for disruption. "Consumer-focused companies are rapidly moving further into healthcare, and industry incumbents need to be ready for accelerating change," reports FierceHealthcare.
Now's the time for total payment integrity
See the ClarisHealth 360-degree solution for total payment integrity in action.
ClarisHealth Achieves HITRUST Risk-based, 2-year Certification to Further Mitigate Risk in Third-Party Privacy, Security and Compliance
ClarisHealth, provider of industry-leading payment integrity technology for health plans, today announced the Pareo® platform has earned Certified status for information security by HITRUST. HITRUST Risk-based, 2-year (r2) Certified ...
For the 3rd Time, ClarisHealth Appears on Inc. 5000, Ranking No. 2362
Today, Inc. revealed that ClarisHealth, provider of the industry's leading payment integrity platform for health plans, is No. 2362 on the 2022 Inc. 5000 list. This is the third year running that the company has ranked on the list.
ClarisHealth Awarded No. 251 on Financial Times' List of Fastest Growing Companies in the Americas 2022
ClarisHealth, leading provider of payment integrity technology for health plans, today announced it is No. 251 on the Financial Times' list of the fastest growing companies in the Americas for 2022.