Pareo Clients Improve Payment Accuracy Results in Just One Year, ClarisHealth Study Finds
Leading payment integrity technology platform allows health plans to recover overpayments 50-percent faster
BRENTWOOD, Tenn., Oct. 25, 2022 – Pareo®, the industry's leading payment integrity platform for health plans, reveals efficiencies and improved claims overpayment identifications and recoveries year-over-year, according to an internal study conducted by ClarisHealth business insights analysts. The study shows that Pareo clients recover overpayments 50-percent faster, increase recoveries 31-percent, and increase identifications 21-percent after the first year of platform adoption.
The study looked at key performance insights across Pareo clients who had used the platform for several years, comparing year-one to year-two performance. According to ClarisHealth, these impacts are significant in an industry that has struggled to quickly address healthcare claims payment accuracy.
Analysts connected the platform's unique ability to integrate data, digitize processes, scale content management, and automate recovery processes to the increased efficiencies and savings experienced by Pareo's health payer clients. Analysts were surprised by the level of growth experienced in the timeframe.
"From a data analysis perspective, we consistently look at individual client performance data to help them communicate value. For the first time, we've looked deeper into how Pareo impacts clients as a whole," says Alexandra Bowling, Business Insights Analyst and ClarisHealth. "It was exciting to see such an improvement in a relatively short amount of time. This is the just the beginning of diagnostics to help us better understand optimal payment integrity programming."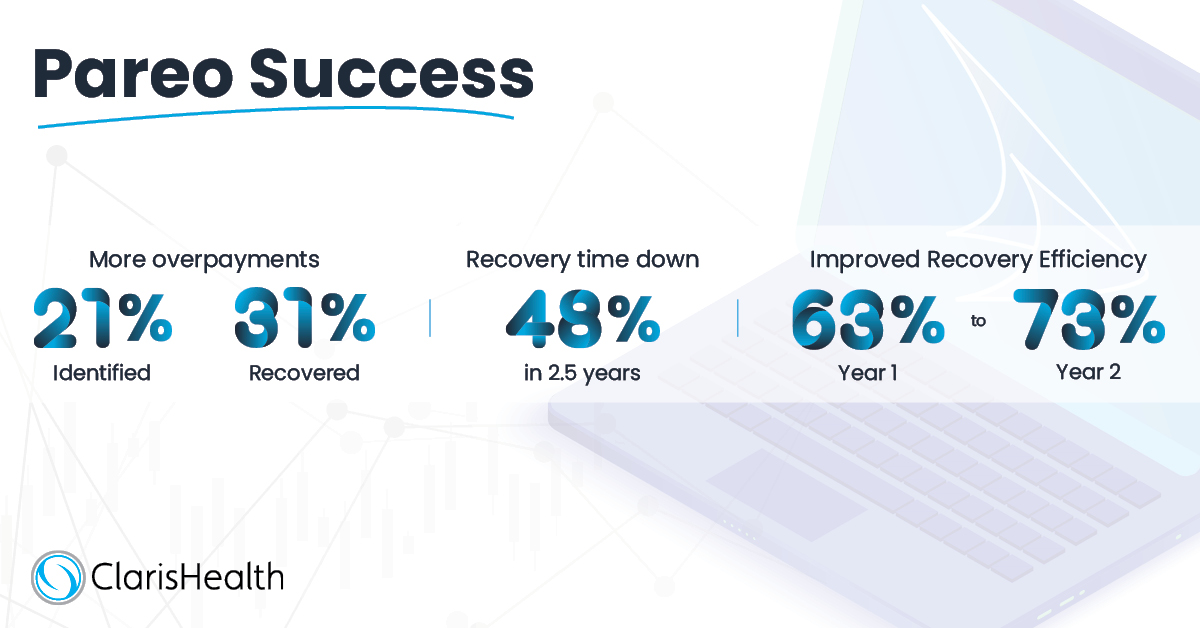 The study results were revealed at ClarisHealth's first annual Power of Pareo Conference in Nashville last month. According to ClarisHealth CTO Jim Weathersby, these metrics are a reflection of a core tenet of Pareo.
"Our goal with Pareo is to empower payers as payment accuracy elevates in strategic significance across the enterprise," says Weathersby. "These metrics not only prove the effectiveness of Pareo, they also allow us to be more insights-driven with our clients and better position them to prove value and increase engagement with key stakeholders."
This study marks the first time ClarisHealth has undertaken research of this nature. The key performance indicators that were revealed hold steady across health plans regardless of size and programming. Clients in this study represent different aspects of payment integrity program maturity including those that were building from scratch, replacing platforms, expanding internal capabilities and adding more service vendors.
ClarisHealth's mission to transform engagement in healthcare begins with the belief that payers should have greater control over payment integrity operations. This initial study marks a milestone in proving out this belief by demonstrating how operational efficiency and visibility can quickly improve payment integrity programming. For more information about the Pareo platform and approach to payment integrity, please visit www.clarishealth.com/pareo-payment-integrity-fwa-platform/.
About ClarisHealth
ClarisHealth, an Inc. 5000 and Deloitte Technology Fast 500 company and recognized for prospective payment integrity solutions in the Gartner Hype Cycle, is the answer to the health plan industry's siloed solutions and traditional models for identification and overpayment recovery services. ClarisHealth provides health plans and payers with total visibility into payment integrity operations through its proprietary, A.I.-powered cost containment technology platform Pareo®. Pareo enables health plans to maximize cost avoidance and recoveries at the most optimized cost for a 15x return on their software investment.
Now's the time for total payment integrity
See the ClarisHealth 360-degree solution for total payment integrity in action.
Health Plan Leaders Speak Out on Building the Payment Integrity Organization of Tomorrow
Whether or not health plan leaders implement a fully centralized PIO, sharing information on an enterprise payment integrity technology platform helps overcome challenges and meet strategic opportunity.
ClarisHealth Ranks on Inc. 5000: Regionals Southeast List for the 2nd Year in a Row
ClarisHealth, provider of the industry-leading payment integrity technology platform Pareo®, today announced it ranked for the second year in a row on the third annual Inc. 5000 Regionals: Southeast list, the most prestigious ranking ...
Study Reveals Payers Recover Overpayments 50% Faster with Enterprise Technology
In an industry that has struggled to quickly and meaningfully address healthcare claims payment accuracy, digital transformation once again proves its value. How can payers best take advantage of the potential of enterprise technology?