An Aggressive Plan to Move your Claims Recovery to Prepay Status
Transitioning more payment integrity operations to internal prepay is more than just a pipe dream for health plans
Transitioning prepay. It's the holy grail for health plans — and viewed as equally unattainable. And, in the not-so-distant past, this viewpoint would have been correct. But now, with the assistance of innovative technologies, health plans can take an aggressive approach to transitioning claims recovery to an internal prepay model. Here's a look at the challenge of transitioning to prepay, the solution we propose, and why your health plan can't continue the business-as-usual efforts in this area. 
The "Challenge"
Historically, health plans applying post-pay concepts in a prepay environment have been mutually exclusive ideas
In today's market, it's essential for health plans to get a handle on payment accuracy. But, without the proper technology tools in place, it's difficult for payers (and other healthcare stakeholders) to gain true visibility into their operations. In the case of third-party technology suppliers, who rely on their partners to perform at peak level, these murky waters may prove especially hard to navigate. 
Without comprehensive insight and management, it is very difficult for payers to move the needle on claims recovery. Especially when attempting to shift claims from post-pay to prepay, though doing so promises improved efficiencies and higher rates of return for health plans. We see two common barriers to making this shift:
Even if your third-party vendors possess the kind of technology that would enable you to move more claims to prepay resolution, health plans have no ability to store the most successful concepts and apply advanced analytics prepay. 

Even if you do have insights, limited data analytics resources prevent you from taking full advantage of advanced technology.
You may know that some health plans have been able to shift claims recovery efforts to internal prepay activities, but do you fully understand how? In part, successful plans achieve this by breaking down data barriers. With the right solution in place, payers can actually overcome the limitations that poor data visibility place on them. 
Why Prepay is an Urgent Concern
Health plans need the efficiencies that comprehensive payment accuracy technology brings, and prepay is an opportunity to make quick strides. 
We get it. You have a laundry list of to-do's, all vying for top priority. Digital-first strategy, member experience improvements, optimizing costs and outcomes — these are all important goals. But, it could be that a focus on claims recovery gives your health plan the breathing room it needs for these significant investments. And as professional program integrity problem solvers, we think a shift to prepay is a valuable opportunity for health plans looking to gain traction on aggressive payment accuracy targets. 
We aren't alone in suggesting a technology solution to improve claims recovery (and management in general). Earlier this year, Fierce Healthcare pointed out, down to the dollar, how much it costs a payer to manage claim inquiries. "When a provider contacts a payer to check a claim status, it takes an average of 14 minutes and costs the provider $7.12… multiplied by millions of requests each year, the time and money add up. In 2018 alone, providers made 173 million claim status inquiries by phone, fax or email." 
Investing in data analytics is a growing trend. In fact, 60% of surveyed health executives say they are investing more in predictive technologies in 2019. Claims recovery will continue to be an important facet of your health plan's payment accuracy operations. With the right solution in place, the ability to shift to internal prepay concepts will be in your hands. 
The "Solution": Pareo® is How
With a centralized solution like Pareo in place, everyone can get on the same page, including vendors and other departments responsible for payment accuracy. 
It may take time, it may necessitate a change in how you do things, but we believe all health plans have the opportunity to deploy a centralized solution for payment accuracy (and reap the benefits). Here's an idea of how a PI solution like Pareo works from a holistic vantage point to quickly turn around recoveries at your health plan: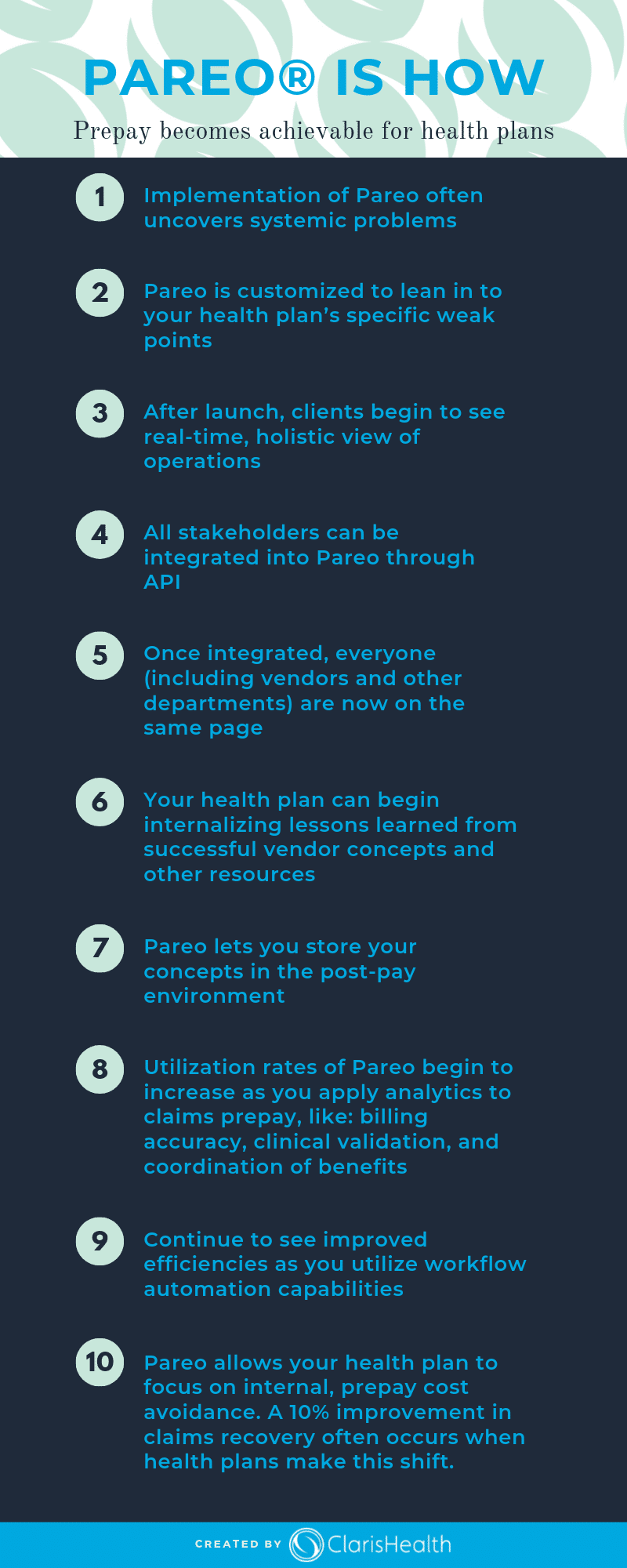 Our team works with you to develop a specific implementation and use plan for Pareo that meets (and often exceeds) the goals you've outlined for your plan. If shifting to prepay cost avoidance is a goal of your health plan, Pareo is the comprehensive solution that will help you get there.
Now's the time for total payment integrity
See the ClarisHealth 360-degree solution for total payment integrity in action.
ClarisHealth Achieves HITRUST Risk-based, 2-year Certification to Further Mitigate Risk in Third-Party Privacy, Security and Compliance
ClarisHealth, provider of industry-leading payment integrity technology for health plans, today announced the Pareo® platform has earned Certified status for information security by HITRUST. HITRUST Risk-based, 2-year (r2) Certified ...
For the 3rd Time, ClarisHealth Appears on Inc. 5000, Ranking No. 2362
Today, Inc. revealed that ClarisHealth, provider of the industry's leading payment integrity platform for health plans, is No. 2362 on the 2022 Inc. 5000 list. This is the third year running that the company has ranked on the list.
ClarisHealth Awarded No. 251 on Financial Times' List of Fastest Growing Companies in the Americas 2022
ClarisHealth, leading provider of payment integrity technology for health plans, today announced it is No. 251 on the Financial Times' list of the fastest growing companies in the Americas for 2022.