Payment integrity solutions make many claims. Here are the top 11 areas of evaluation to ensure a perfect fit for your health plan.
The healthcare data deluge is coming. Is your health plan prepared to deal with it? Most of the health plans and payers we talk with are in one of two camps: a few self-developed solutions for claims audit and recovery, or scores of piecemeal applications used by the assorted departments dedicated to different areas of cost containment.
No matter your current approach, health plans have an increasing number of advanced technology choices in front of them – all promising "the answer." As this article puts it: "New startups emerge every day, promising to hold the panacea for interoperability, data and analytics woes. As more players enter the game, it's increasingly difficult to weed the snake oil peddlers from those who've got the right stuff."
What's at stake? Your rate of recovery.
Choosing the right payment integrity solution for your health plan holds arguably the greatest potential impact on your bottom line. When ClarisHealth conducted a survey examining payment integrity returns on claim spend at the leading national and regional health plans, we discovered a key difference. Those payers who had in place a scalable technology solution were tripling the rate of recovery over those who were struggling with outdated applications that require a great deal of manual intervention.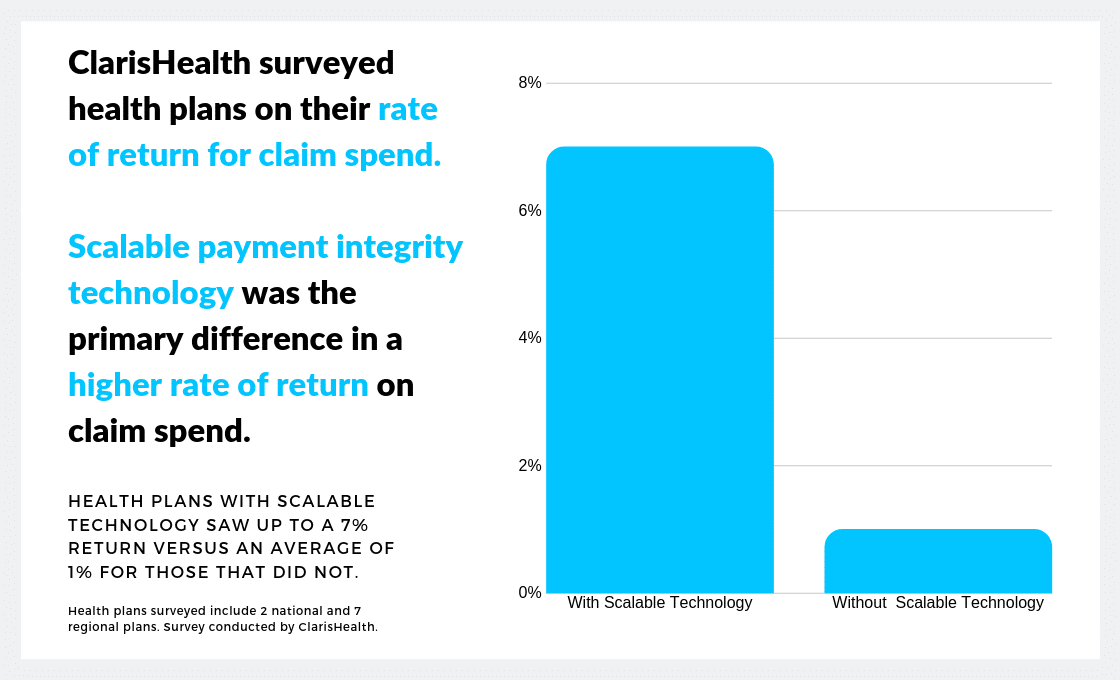 Virtually every health plan is looking to move their medical savings from a typical 1-2% today to something above 5% over the next few years. As your health plan looks at the emerging payment integrity solutions on the market, two questions will guide you in your search:
What are the most important elements to consider?

How do the different options – payment integrity solutions, self-developed technology, claims editors, FWA solutions, third-party services providers – stack up against each other?
In this post, we will examine the most important areas of consideration to offer a comprehensive payment integrity checklist for your health plan's needs.
Functionality is the Top Consideration
As you evaluate payment integrity options (and consequently, the tech companies and services providers that develop these solutions), functionality should be the top consideration. Nested under functionality are several areas of evaluation that make up a powerful payment integrity checklist:
1. Supplier Optimization
The ideal payment integrity solution should optimize the value you receive from third-party suppliers. Pareo® is the only commercially available solution that optimizes third-party vendor performance to help you realize, on average, a 30% increase in supplier efficiency. Functions like overlap control, contract management and performance reporting are all integrated through a single platform. Another benefit? Onboarding a new payment integrity supplier is quick and easy.
2. Audit Workflow and Analytics
How simple is your payment integrity workflow? Pareo® improves efficiency and enables health plans to grow internal data mining and coordination of benefits (COB) operations. Analytics are funneled into a dashboard, streamlining access to information to benefit workflow processes. Productivity metrics can be applied in real-time across your organization to track efficiency.
3. Clinical Workflow and Analytics
Your health plan can maximize the effectiveness of certified coders and nurse auditors by ensuring that each audit can be fully reconciled. With Pareo®, clients average a 7% rate of recovery, relative to claim spend. Health plans can expand clinical and audit operations with advanced payment integrity technology, while decreasing medical expenditures by 2-4% and reducing the chance of errors.
4. Enterprise Content Management
Who has the medical record? Managing this process through spreadsheets and email contributes directly to provider abrasion and unnecessarily limits the effectiveness of your payment integrity suppliers. Features like dynamic workstreams, unique tagging, overlap controls, relevant reporting, and integrated OCR and audit validation enhancements eliminate duplicate content requests.
5. Reporting and Business Intelligence
Drive your health plan to maximum effectiveness with actionable business intelligence. Pareo® provides access to real-time metrics that can be leveraged for accurate reporting when you need it most. Our system offers role-based dashboards, allowing health plans to scale business intelligence solutions system-wide.
6. Provider Engagement
Your payment integrity processes have the potential to damage or improve the payer-provider relationship. Features like electronic overpayment notifications, engagement tools, underpayment management and provider self-reporting can streamline your operations to improve provider relations and reduce costs for both parties.
If this functionality checklist covers more than what your health plan currently needs, that's exactly the point. Your ideal advanced payment integrity technology should be scalable enough to grow as you grow. That doesn't mean you have to take on all areas of functionality at once; a modular approach to implementation brings many benefits to health plans.
Additional Payment Integrity Evaluation Areas
A search for payment integrity technology doesn't stop at functionality questions, particularly as a health plan evaluates various solutions and/or a more comprehensive platform. Some of the solutions that a health plan may evaluate as part of payment integrity program include: self-developed technology, claims editors, FWA solutions, and other vendors offering integrative technology.
After evaluating payment integrity vendors based on functionality, the following areas should also be reviewed:
1. Flexibility
Not all payment integrity solutions offer flexibility, which is why some health plans choose to build their own solution. That path, while offering full customization, also comes with some inherent problems. Read an analysis on the build vs. buy argument here.
2. Value Perks
Is the payment integrity solution in question able to identify and fill the gaps left open by current financial processes? How is ROI improved by this added value?
3. Integration and Ease of System Implementation
What training and support does the solution provider in question offer? How often do they update their platform, and how well will it integrate with current and future suppliers and providers?  
4. Data Accessibility
How important is SaaS vs. on-premise for your organization? Healthcare as a whole is increasingly moving all electronic systems to "the cloud" to increase stakeholder engagement, improve efficiencies and reduce capital investments in quickly-obsolete hardware.
5. Working with the Vendor
Whether your health plan decides to build its own solution, buy one or subscribe to one, you will be working with this group for years to come. How responsive, reliable and overall customer-oriented are they?
How Does Comprehensive Payment Integrity Stack Up Against Other Solutions?
When we speak with health plans and payers, we find that there's some confusion surrounding the elements of a robust payment integrity program. In particular, a claims editing solution or a FWA tool  are sometimes seen as a complete payment integrity management tool, even though we regularly uncover gaps and hidden revenue for plans that rely on just a claims editor.  
We've said it before, and we'll say it again: these modular solutions are not the same as a comprehensive PI solution. That isn't to say they can't work in tandem; for instance, Pareo® was created to integrate with third-party suppliers as well as optimize multiple supplier relationships for health plans. As we build this checklist, keep in mind that the benchmark is total payment integrity functionality. However, this payment integrity solution tool can be used to evaluate other elements of a payment integrity program.
Here's how Pareo® compares to other payment integrity solutions: 
Self-developed Technology: Self-built payment integrity solutions incur large, ongoing costs for health plans.

Pareo®

can be quickly implemented and offers many immediate benefits to a health plan, versus a self-built solution that will require a longer lead time before ROI is realized. Additional considerations for those considering building an in-house solution are: functions that need to be included, cost, time, and vendor integration.

Claims Editors:

Pareo®

works in tandem with claims editing solutions by improving the scope and automating much of the workflow.

FWA Solutions

:

FWA solutions, like claims editing solutions, are limited in scope and therefore not comprehensive. They should not be a health plan's only line of defense in preventing improper payments.  

Third-party specialized suppliers: A health plan considering third-party vendors doesn't have to choose between

Pareo®

and their business partners' solutions.

Pareo®

offers supplier optimization tools that allow for platform integration, improving a payment integrity system's performance and workflow.
Why should Pareo® be on your health plan's list of payment integrity solutions to consider? Every week, we provide a no-hassle look at what Pareo® can do.