Health Plan Leaders Speak Out on Building the Payment Integrity Organization of Tomorrow
Whether or not health plan leaders implement a fully centralized PIO, sharing information on an enterprise payment integrity technology platform helps overcome challenges and meet strategic opportunity.
When we speak with health plan leaders, they acknowledge that challenges abound in meeting payment accuracy goals. Communication with providers, aging technology solutions, industry mandates, siloed data and budget constraints all present hurdles. At the same time, payment integrity is still rising in payer strategies and it's becoming more and more of a focus.
To capitalize on this opportunity, our community of payment integrity leaders has a vision for the future. Recently, they came together for collaborative conversations to discuss the state of the industry. And those discussions revealed significant insights on what's possible when innovators put their minds to it.
Together, as well as in their separate organizations, they are working toward some best practices that answer some of the industry's top questions:
How should PIOs be structured?
How can you balance decreasing both medical spend and administrative costs?
What are the top considerations when adopting enterprise technology and other new solutions?
How can payment integrity success be measured?
How should payers communicate with providers?
What are the right investments to make to overcome perennial challenges?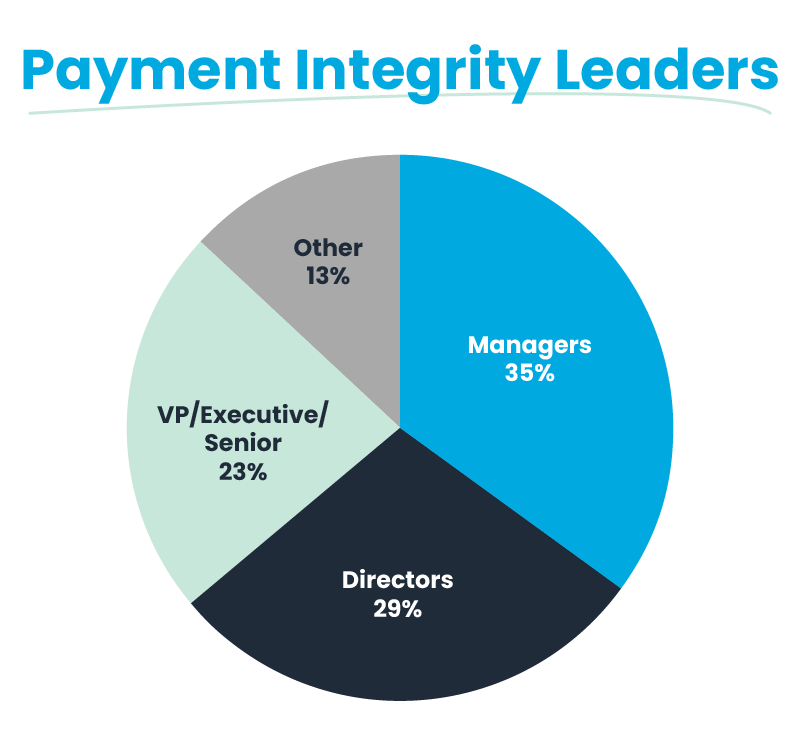 Audience represented in our survey responses, by title/functional level
A Vision for the PIO of the Future
To best meet the challenges of today and the opportunities presented by the future, most leaders see the benefits of a centralized payment integrity organization. In this model, each payer finds its own balance between the centralization of information juxtaposed against the modularization of teams and structure.
About half of the payment integrity leaders we surveyed define their structure as operating as a single entity. Others define centralization more loosely. The organization uses an integrated data source, but people, pathways, and roles have greater degrees of flexibility to carry out their missions. To drive further alignment and efficiency, additional measures include implementing a steering committee with the ability to make fast-paced decisions for all aspects of the PIO.
No matter the structure, the deployment of a common information stream used across business disciplines accomplishes many of the same aims as a fully centralized PIO, depending on the culture. This unified access to information is best achieved with an end-to-end payment integrity technology platform.
Payment integrity leaders identify engaging with internal stakeholders as a high priority. 74% cite other departments as the area of greatest need, while 21% want to engage more with executives.
Value of an End-to-End Payment Integrity Technology Platform
Using enterprise technology optimizes PIOs while reducing administrative and medical spend. Putting all people, processes and data on one platform creates an operating system that all payment integrity stakeholders can rely on. As a result, it can help balance the mix of outsourced and internal claims overpayment programs, support payer-provider transparency and collaboration, and shift the focus to prepay cost avoidance.
The enterprise platform stands to improve the entirety of the payment integrity operation. But because it is driven by claims data — and likely attached to annual escalating recovery goals — those with experience in this area agree it makes sense in most organizations for claims operations to take the lead on the project.
From this base structure, improved integration with recovery (e.g., SIU and Clinical Review) and overpayment prevention, provider network management, compliance and other teams along with their data sources should be considered in this holistic approach to the program.
The goal is a shared view of information. And it is the visibility into the entire claim lifecycle — from edits to prepay, to insourced/outsourced recovery, all the way to appeals/disputes — that is leading this function's transformation. From reactive, loosely affiliated departments variously impacted by over and underpayments to a highly strategic and coordinated organization focused on the industry shift to payment accuracy.
Those PIOs that pursue this model are making rapid progress along the payment integrity continuum. Even when starting from scratch or a foundation that's more limited strategically: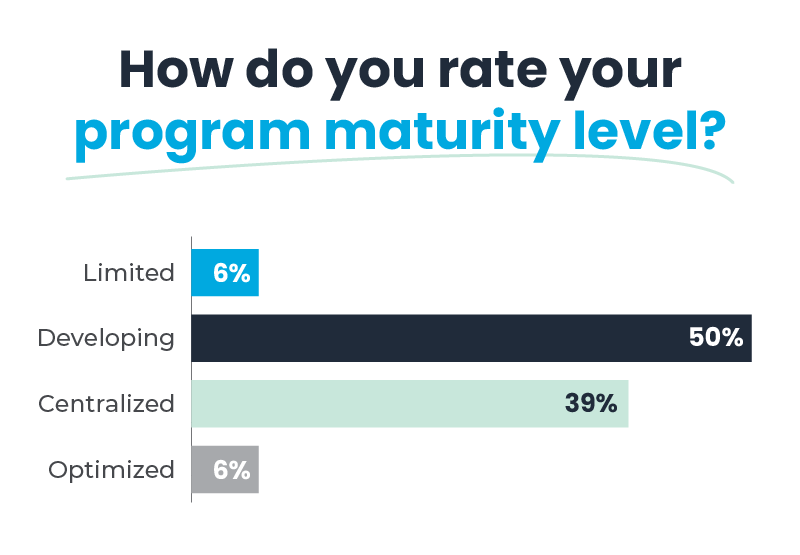 Optimizing the balance of outsourced and internal claims overpayment programs
Implementing an enterprise technology platform enables one of the most effective strategies for maximizing recovery dollars while minimizing the overall cost of recovery: optimizing the use of third-party service vendors. Though outsourcing has long been the primary approach to payment integrity, strategic health plan leaders are using technology to right-size this relationship to find more value for both sides.
Driving this change in part is the recognition that onboarding a new vendor isn't without cost, despite the contingency fee structure of recoveries.
"It can cost as much as $250k in IT spend to generate a claims feed for a new vendor — with no guarantee of results," said a VP of payment integrity and strategy for a regional health plan.
In that case, the directive of a payment integrity platform is twofold for this area of optimization:
1. Lower the cost of vendor implementation and onboarding
2. Gain a near real-time and longitudinal view into performance metrics representing true efficacy
From there, payment integrity innovators are using the information generated by more traditional recovery efforts to surface trends and overpayment traits that are prime to shift to prepay and/or insource. Instead of finding the same recoveries over and over again, their vendors are showing their value as outsourced R&D and specialized experts.
The key to this insourcing strategy is to identify your organization's core competencies. With the right talent — and IT infrastructure to maximize auditor productivity and accuracy — at hand, these PIOs are making the most of their vendors as well as their internal resources.
Even as insourcing strategies come to the forefront in health plans, vendors still have ample opportunity to provide value from end to end in various recovery or prevention scenarios. Particularly while organizations continue to build their internal auditor programs: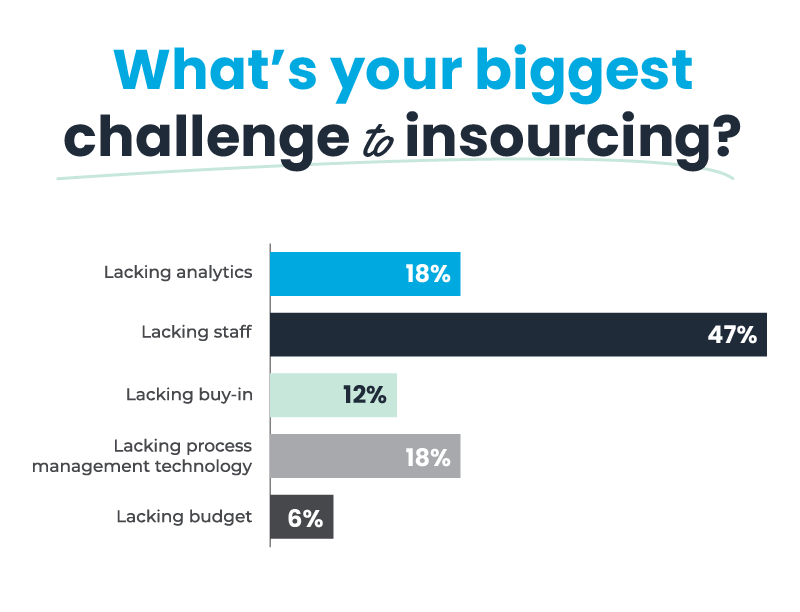 Supporting payer-provider transparency and collaboration
Payers and providers alike seek a relationship based on mutual trust supported by consolidated data for a more interactive approach. This collaboration paves the way for proactively working to prevent overpayments from happening in the first place. It's a long-term play that's at the heart of the industry shift to payment accuracy. And payment integrity leaders see enterprise technology as key to supporting this shift in incremental, achievable steps.
For payment integrity, that looks like data analytics to minimize medical records requests and drive proactive prepay reviews to reduce unnecessary provider abrasion. Internal communication tools and coordination with the provider relations team is a logical next step. Arming them with information, knowledge and skills to effectively communicate payment integrity program and audit details. As well as using payment integrity data to inform provider contract terms and requirements.
Payer-Provider Portals
In the past, we've written about the potential of payer-provider portals to scale communications and support transparency in this important relationship. Our community called out the following capabilities that would support those goals:
Support back-and-forth discussion

Show incorrect billing sources

Communicate overpayment/underpayment details

Manage appeals

Upload medical records

Supply provider education

Provide monthly statement of retractions

Pay online if not retraction eligible to eliminate check payments

Provide detailed reporting to support daily activity

Benchmark against other providers

Consolidation to reduce need for multiple portals
Top Priorities of Health Plan Leaders to Address Challenges and Move the PIO Forward
Even innovative, future-focused PIOs experience the traditional constraints that most organizations face. Namely, sufficient budget in a shifting economic outlook. But within this environment, there still exists significant opportunity to move payment integrity forward.
The health plan leaders in our community are finding success by homing in on the most potentially impactful areas of improvement — particularly those initiatives intended to drive down the cost of healthcare — and prioritizing those investments:
Staff with specialized and technical skills

Technology that improves efficiencies

Culture prepared for unpredictability
Staff
Health plans aren't immune to the workforce shifts that are affecting many industries. In general, they find recruiting talent to be quite difficult. Finding right-fit candidates for budgeted positions poses challenges, including competing for salary requirements and accessing limited talent pools for specialized resources like nurses and clinicians.
As a result, PIOs are getting creative in their staffing needs. The goal is to increase autonomy and develop the value stories that promise to elevate their mission.
They're locating under-utilized resources throughout the health plan to get key technical skill sets assigned to their projects. More IT resources, data scientists, and even the PIO's own adjustment team leads to increased recoveries, faster. Outside recruiting focuses on problem solvers that root-cause analyze over certifications. These people are key to owning a process. And outsourcing fills the remaining gaps while reducing labor costs.
"In the current environment, CEOs report cutting costs and spurring revenue growth — but most don't plan to reduce workforce or delay deals." PwC's 26th Annual Global CEO Survey
Technology
The right technology can reduce staff angst, mitigate over-reliance on vendors, and control costs. Aging and fragmented legacy technology tools are costly to maintain. Upgrading and consolidating these tools into an enterprise platform can create efficiencies by automating manual processes, integrating data sources to surface business intelligence insights, and even augmenting expertise with A.I. capabilities.
Culture
Culture is the third leg of the stool. It maximizes strategic investments in talent and technology. This encompasses building resilience in teams to prepare for unpredictability, implementing change management training, placing greater emphasis on leadership development and continuity planning, developing empowerment policies based on shared value levers, and moving verticals out of silos.
The goal here is to prepare for what comes next. Including accelerating the move to prepay, which requires support from all areas of the organization. And recognizing the industry is moving increasingly to value-based care, which could transform how payment integrity operates entirely. The future may be unknown, but these PIOs aim to be ready.
Looking Ahead
These leaders aren't reacting to the industry shift toward payment accuracy. They're leading the charge. And they're doing it by creating an environment of prevention through continuous improvement and proactive engagement. This strategy is enabled by communicating, and coordinating processes throughout the entire payment, eligibility, member, and provider management spectrum. And we're excited that our community is using the Pareo enterprise technology platform to support their efforts.
Now's the time for total payment integrity
See the ClarisHealth 360-degree solution for total payment integrity in action.
ClarisHealth Hires Gary Eeds as Chief Operating Officer
Healthcare technology delivery veteran joins senior leadership team to scale adoption of enterprise payment integrity platform for health plans. As Chief Operating Officer, Eeds is excited to join ClarisHealth to continue the mission ...
ClarisHealth Makes the Inc. 5000 4 Years in a Row
ClarisHealth, provider of the industry-leading payment integrity technology platform Pareo®, today announced it ranked for the fourth year in a row on the Inc. 5000. ClarisHealth attributes its sustained revenue hyper-growth rate to ...
Will Artificial Intelligence Finally Make Good on its Promise to Healthcare?
Artificial Intelligence is making the leap from much-hyped "trend" for healthcare technology to more widespread adoption. Here's what A.I. is — and isn't — and how health plans are proving its value. Artificial Intelligence for ...